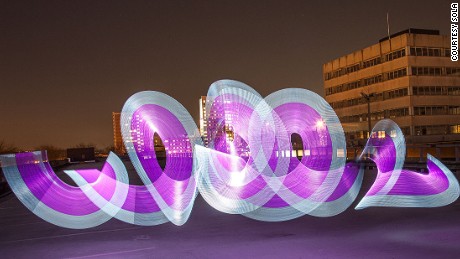 Dazzling art illuminates the streets
It's 4 o'clock in the morning. Most of Birmingham, the second most populated city in England, is fast asleep. But like a thief in the dead of night, a solitary figure slips through the city's deserted streets. Arriving at a derelict warehouse, he is brandishing what looks like a lightsaber as he makes his way to the roof.
Using the resting metropolis as a backdrop, "Sola" draws swift shapes in the air with the light wand. Thirty seconds later, the camera shutter clicks and the light artist grabs his kit, disappearing once more into the night.
Welcome to the elusive, magical world of "lightbombing."
"Sola" is the street artist alter ego of 40-year-old photographer Peter Medlicott, who has been capturing the urban landscape of Birmingham streets since shortly after relocating there in 2000. Much of the city had become ex-industrial space and Sola recalls how upon first appearances, the city seemed somewhat run down. But a chance late-night shoot revealed the transformative nature of nightfall on the city. What were once dead spaces became a textural stage for the photographer to illuminate.